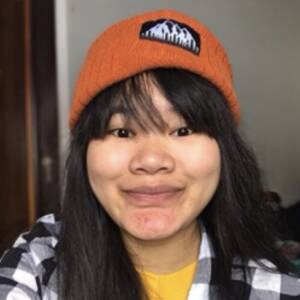 Htay joined the Cookie Cart team in December 2019, and said she wanted to work at Cookie Cart "to gain experience working and to learn how to communicate. I wanted to get out of my comfort zone, too." Although most of Htay's time at Cookie Cart has been virtual she says, "I like the variety of topics we learn about. The meetings are incredibly fun and I like working with everyone. All the staff is wonderful and they really help out a lot." 
Htay is eager to learn and brings a curious spirit to the virtual trainings. She says, "I like learning about new stuff and asking questions. I've always been curious about everything, even outside of work." Htay's coworkers agree saying Htay is a natural leader, hard working, and kind. One team member shares, "Htay values her relationships with people and is always there to give a helping hand. She can overcome anything she puts her mind to."
The CART Circles – online meetings for all youth staff – are Htay's favorite part about working at Cookie Cart. "That's where we get to bond and get to know more about each other and the other youth." Htay says the biggest lessons she's learned while working at Cookie Cart are networking and how to advocate for herself. "In networking, I learned to communicate with different people and people I don't know. I also learned how to advocate for myself in the future. If I find something that is wrong, I'll stand up for myself rather than being quiet. Because it does happen in the real world, and I didn't used to advocate for myself." When Htay finishes high school, she plans to attend a 4-year college and possibly Medical School.
Congratulations Htay on being a Rising Star!
We are grateful for your hard work and are proud of all your accomplishments!