The Lifecycle of a Product at General Mills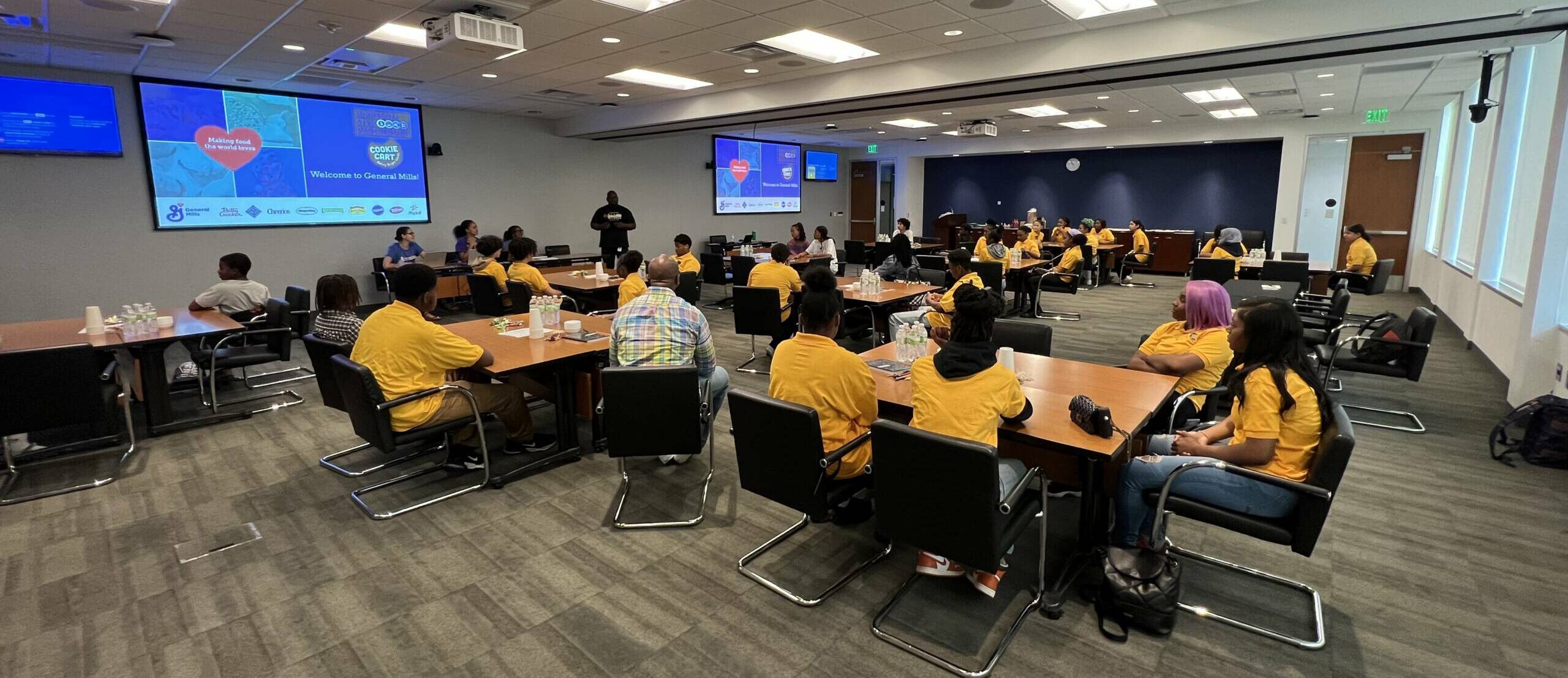 The summertime cohort at Cookie Cart often feels like the most active and excitable group to make their way through the bakeries and classrooms as June, July, and August fly by each year. Maybe it's the earlier shift times, the increased busyness in the bakeries, or the freedom from homework and tests–there's just something magical about summer at Cookie Cart and this year's cohort is no different!
On a steamy afternoon in July, 23 Cookie Cart scholars from both Minneapolis and Saint Paul descended on the General Mills headquarters in Golden Valley, MN, for a workplace visit led by the Black Champions Network–an employee affinity group hosted within and supported by General Mills International. Welcomed by five staff members representing various departments at General Mills, the Cookie Cart crew was separated into teams to participate in a product development activity that would allow them to see how something as iconic as Lucky Charms goes from idea to invention.
The Raising The Bar activity was wisely crafted to walk young people through each step and then pause for each team to put their newfound knowledge into practice through the design and production process. In the ideation phase, groups were challenged to think like a General Mills product development team that was dreaming up a new snack bar. They were tasked to first identify a need their product would meet (nutrition? energy? convenience? a treat?) and then develop a target audience that they would keep in mind throughout the process. Each team created a persona of an ideal person that would purchase their snack bars on a consistent basis, which taught them about how important it is to keep a goal in mind while getting caught up in the weeds of ingredient costs and packaging design.
When it came time to think through manufacturing, packaging, distribution, and on-shelf experience, many young people perked up at the potential of covering their new creations in caramel, marshmallows, and chocolate but were surprised to realize just how many variables are involved. As each team struggled with choosing a less expensive ingredient mix or spending more on market research and testing, the General Mills employees were keen to share knowledge and insight to help young people discern how to create and follow through on priorities. This helped them learn the value of cooperation and coordination between the many moving parts of these types of processes and how important it is to learn good communication skills so that each member's voice can be heard and a good product can be realized along the way.
Each team was then given a pan of plain granola bars to create their chosen flavor while other members of the team helped design and draw packaging ideas so that they would have something to pitch to the 'buyers' that would be coming in at the end of the activity. As experienced decorators, the Cookie Cart crew rose to the occasion to create vibrantly unique bars with bright packaging that would jump off store shelves. This was where young people came to life and expressed their unique talents and creativity in ways that their time at Cookie Cart has helped them hone.
When pitch time came, each team was up for the challenge. Mic lovers and avoiders alike were able to share facts about their new product with conviction and poise. Listening to the General Mills employees (cleverly disguised as buyers from large national retailers) give feedback to each team, a resounding theme arose centered around how impressed they were with each team's thoroughness and delivery. Wishing they could actually pick up ideas and take these imaginary products through the General Mills ringer, each staff member we spoke with gleamed with pride and inspiration as they saw the Cookie Cart crew in action.
And while you may not see the Toon Bar or Hulk Up on your local store shelves anytime soon, the lessons learned and experience gained from this fantastic activity will carry far beyond the walls of this incredible company and into the lives of each Cookie Cart scholar as they accomplish their own goals in their personal and professional lives. Our entire team joins in thanking General Mills International and the Black Champions Network (we see you Delaney, Alissa, Leonard, Jada, and Evan) for an incredible afternoon–and for the to-go goodie bags of delicious General Mills delights!
If you or someone you know has opportunities to partner with employers in the Twin Cities for experiences like this, please contact our Program Director, Tanika Reese, at treese@cookiecart.org to connect!!