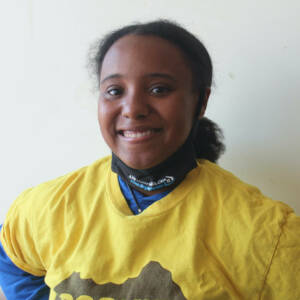 Arrieal joined the Cookie Cart team through the City of Minneapolis STEP-UP Program in Summer 2021. "The STEP-UP Program asked us to write down things we wanted to learn and the kind of places we wanted to work. I got paired up with Cookie Cart and it sounded like a good fit for me." Even before Arrieal was paired with Cookie Cart through STEP-UP, she knew about Cookie Cart from family members who worked here when they were teens – demonstrating the generational impact of Cookie Cart in North Minneapolis.
The online working groups and career exploration sessions are Arrieal's favorite parts about working at Cookie Cart. "I like hearing people talk about their jobs because I'm still figuring out what I want to do when I'm older, and it helps to hear how people got their jobs." Because Arrieal and her teammates are taking online classes and trainings, Arrieal has found it's important to not be afraid to speak up. "When it's quiet, I tend to start the conversation. I give out ideas to help people feel comfortable. I make sure that everyone knows that no idea is a bad idea."
Arrieal peers and managers agree that breaking the ice in virtual classes is important. "Arrieal is a leader in online sessions. She participates in work groups, is on camera and ready to work. Breaking the ice can be difficult, but Arrieal always warms up the space for everyone else." 
As the summer wraps up, Arrieal is ready for what's next because of her experience at Cookie Cart. "I'm definitely taking the information we learned about credit and finances with me. I didn't know anything about credit or buying a house before that class. It's something I've wanted to know and my mom tried to explain it. That's going to be important for my future." What's next for Arrieal? She's still deciding on her education and career path but she knows she's going to work hard to get a scholarship for college.
Congratulations Arrieal on being a Rising Star!
We are grateful for your hard work and are proud of all your accomplishments!