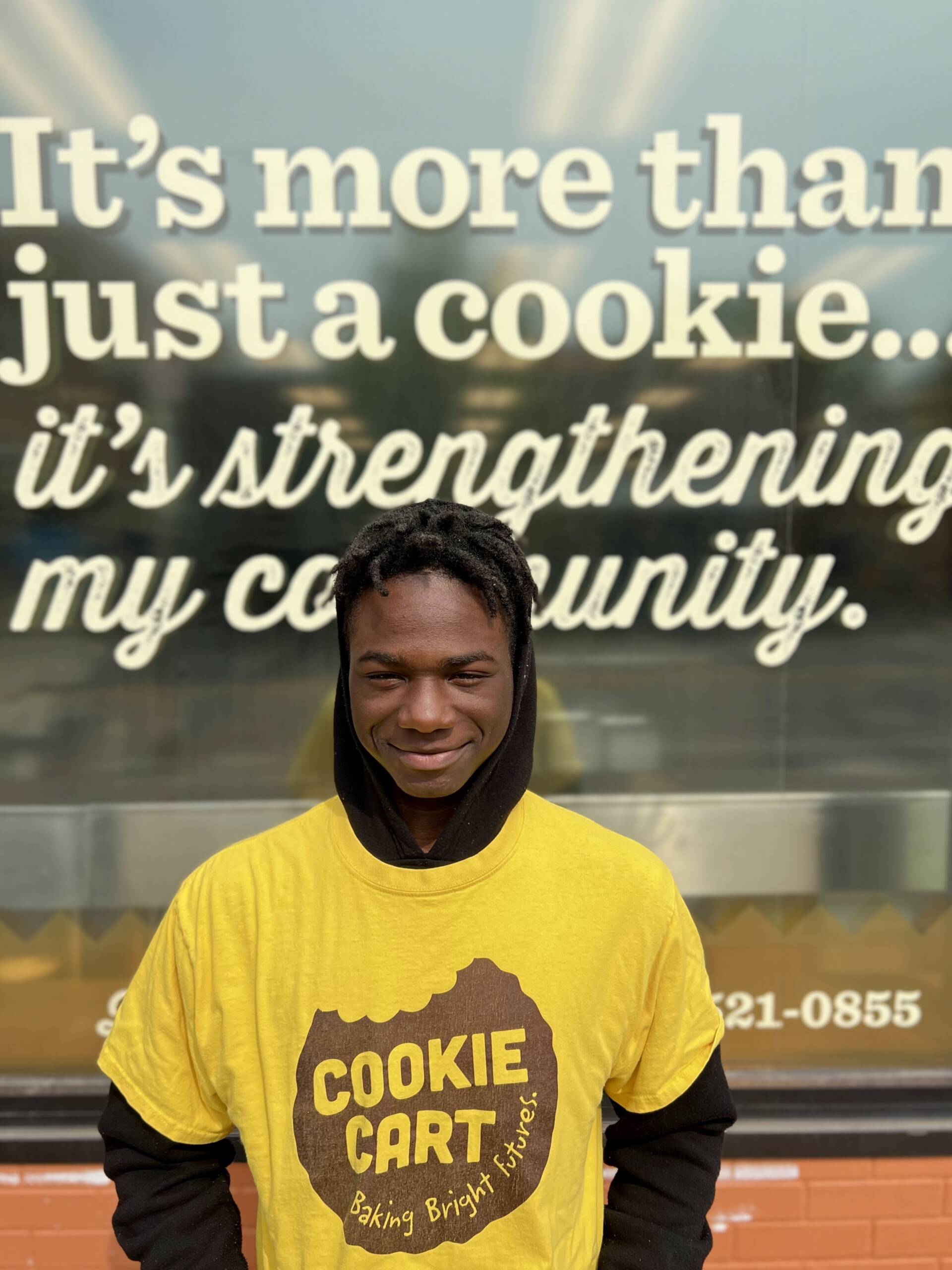 June Rising Star
Saint Paul

Started At Cookie Cart: October 2022
Favorite Cookie: Double Chocolate
Terrell is the Saint Paul Cookie Cart Rising Star for June 2023! Nominated by Jarrell and Kezyia–our Saint Paul bakery leadership staff–Terrell was named a Rising Star because of his ability to communicate clearly and in a timely manner, his outstanding work ethic, and his ability to take direction and ask questions when he's not sure what the next steps of a task are. "Terrell brings joy to our bakery team and has been an incredible addition to our team of young people. He's passionate, positive, and has the ability to bring his peers together to accomplish bakery tasks quickly and with style!" -Jarrell Harrison, Saint Paul Bakery Production Manager.
Terrell was happy to receive the Rising Star honor but wasn't exactly sure what he was doing to stand out. "At Cookie Cart, I just try to be myself and work hard. I have learned that listening to your gut and letting that guide you is the best tool I have." He loves working at Cookie Cart and has made many new friends from other schools he otherwise wouldn't have met. Terrell attends Harding Senior High and hopes to become an entrepreneur after high school with a specific interest in creating and editing videos to stream on popular internet channels so he can share his life with other people.
Earlier this spring, Terrell was asked to take his love for Cookie Cart on the road with our External Relations & Volunteer Senior Manager, Hope Lockett, to General Mills for a cookie sales event. He shared the mission of Cookie Cart while also sharpening his customer service skills and seeing firsthand how many people support Cookie Cart's work. However, Terrell said the best part of that experience, by far, was when one of the employees took them upstairs to a newly renovated floor and gave them a tour of the innovation space. Terrell and the Cookie Cart team got a behind-the-scenes look at what goes into bringing new product ideas to life. They even got to take home boxes of cereal and merchandise that were created for products in development that have not yet been released to the general public!
As far as advice for her peers on what it takes to be a Rising Star, KoKo says it's all about communication. "You really have to trust yourself. Trust your gut feeling in all situations and let that guide you on what to do or what not to do. Oh, and don't be afraid to ask questions because how else can you learn and do your best if you are afraid to ask questions?"
Congratulations, Terrell, on being our June 2023 Rising Star!
You make Cookie Cart an incredible place, and we are proud to have you!