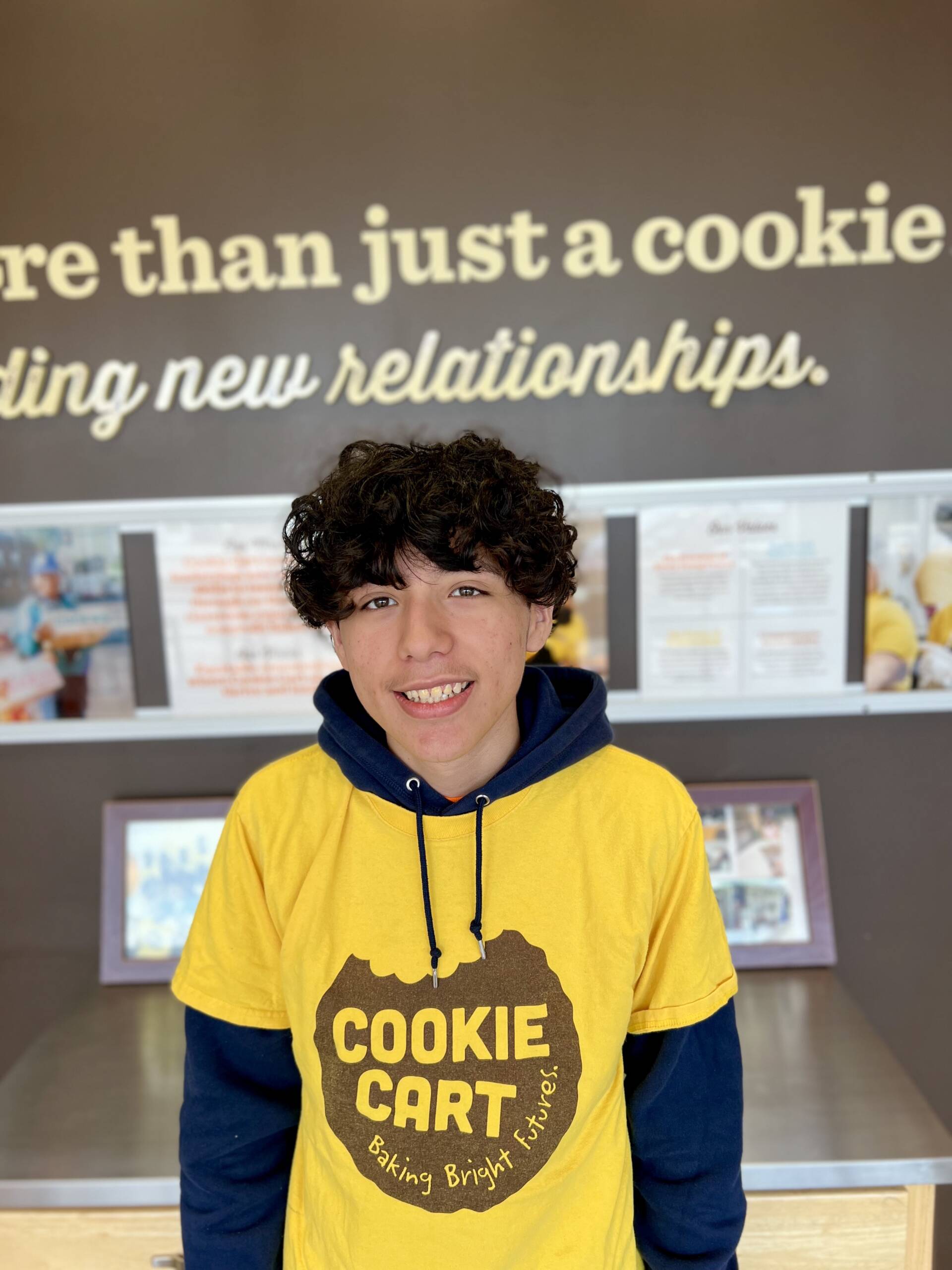 August Rising Star
Minneapolis

Started At Cookie Cart: January 2023
Favorite Cookie: Double Chocolate
Rico is the Minneapolis Cookie Cart Rising Star for August 2023! Nominated by the bakery leadership staff–Stephon, Kendrix, and Dominique–Rico was named a Rising Star because of his ability to observe what is needed during a shift–with tasks or with coworkers. "Rico has been incredibly helpful with others at times when he doesn't even have to be. He'll finish a task and be the first to ask about what else he can do. I've watched him help someone from almost every area of the bakery with their cleaning task." -Dominique, Minneapolis Bakery Manager
Rico was excited to learn about the honor. Rico is happy at Cookie Cart and knows it is helping prepare him for his future–not just vocationally, but in life as well. Rico started as part of the winter cohort in January of 2023. He attends Patrick Henry Senior High in North Minneapolis and is in his second year. Architecture (home design and contruction) and fashion design are on his mind when he thinks about a future career after school.
When asked what he loves about working at Cookie Cart, Rico says he enjoys working with a team of people that respect each other, no matter their position. "I've learned so much about everything from work ethic to how to handle my finances, and I know that will help me when I pursue a career in design after high school," Rico notes, "and I am sure that the lessons I'm learning here at Cookie Cart will help me be a better person overall."
As far as advice for his peers on what it takes to be a Rising Star, Rico says you have to give your all. "Put in your all, whenever and whatever you're doing everything at work, do it 100%. You gotta go all the way and put yourself into it so it's not a half-job. Communicate with everyone is important too, over communicate even."
Congratulations, Rico, on being our August 2023 Rising Star!
You make Cookie Cart an incredible place and we are proud to have you!