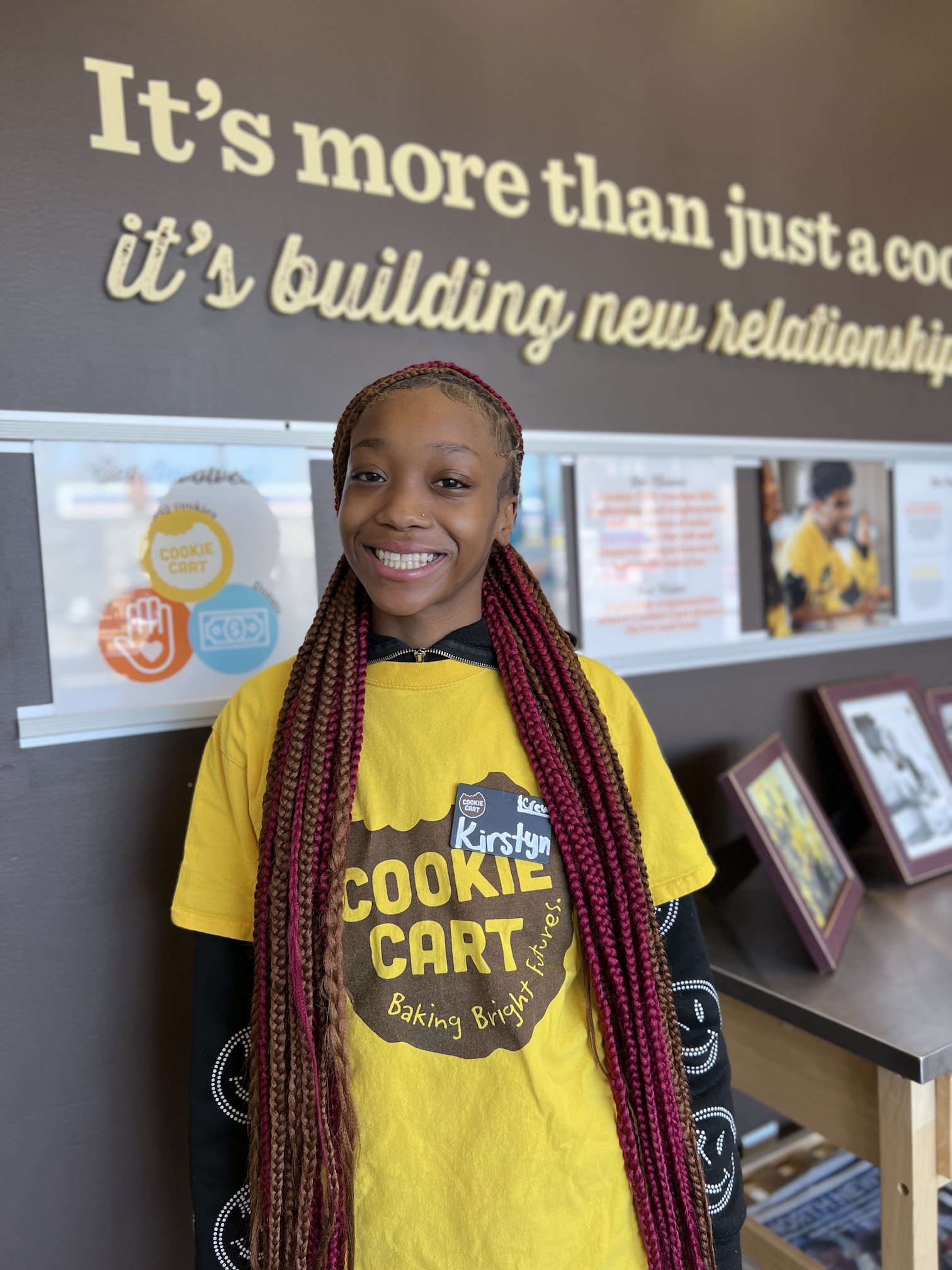 April Rising Star
Minneapolis

Started At Cookie Cart: October 2022
Favorite Cookie: M&M and Snickerdoodle
Kirstyn is the Minneapolis Cookie Cart Rising Star for April 2023! Nominated by the bakery leadership staff, Kirstyn was named a Rising Star because of her recent attendance improvements, the ability to step up and ask questions to help understand tasks, and how she accepts mistakes and moves on without getting discouraged or down on herself. "Kirstyn is a natural leader, and though she leads quietly, she sets an example for other crew members that is contagious and inspiring." -Kazuri Ransom – Minneapolis Bakery Manager.
Kirstyn was cautiously excited about taking the spotlight this month since it is not her natural place, but she felt like it was good to be recognized for her hard work over the past 8 months. Kirstyn has felt a sense of accomplishment since starting a Cookie Cart. "I struggled to come out of my shell at first, but the bakery work helped me reach out and engage with my peers in ways that made me more comfortable as we all worked together," Kirstyn reflects as she thinks about what being at Cookie Cart has meant to her.
Kirstyn sees a future in the nursing field, perhaps as a CNA. She has always been a caretaker and people in her life have built up that side of her since she was young. Cookie Cart has been instrumental in helping Kirstyn feel comfortable in new environments and has also helped her gain confidence in her abilities. She feels like she's becoming a harder worker and her experience is helping in areas of her life.
Grateful for a safe environment for her first job experience, Kirstyn especially loves Cart circles at the beginning of each shift, playing games with her coworkers, and listening to good music while in the bakery. In terms of advice for her peers to make the most of their time at Cookie Cart, Kirstyn says it's all about attitude, "you have to come in each day with positivity and a good attitude while being respectful to your peers and leaders."
Congratulations, Kirstyn, on being a Rising Star for April!
You make Cookie Cart an incredible place and we are proud to have you!