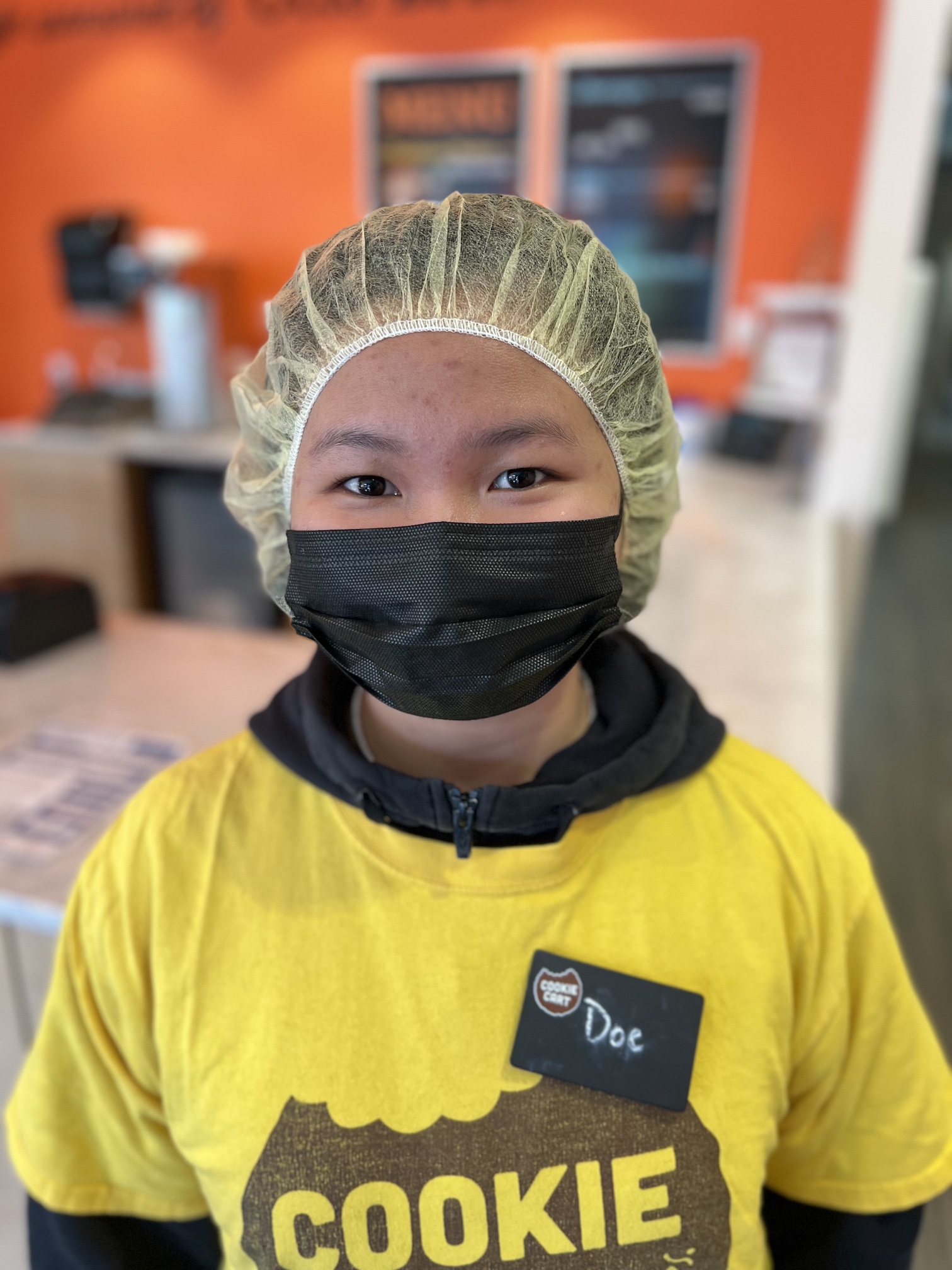 April Rising Star
Saint Paul

Started At Cookie Cart: October 2022
Favorite Cookie: Ask Us S'more In June 😉
Doe is the Saint Paul Cookie Cart Rising Star for April 2023! Nominated by the Production Supervisors, Keyzia and Tyla, Doe was named a Rising Star due to her ability to handle many tasks at once while keeping a calm demeanor and a positive attitude. "Though she's not the most outgoing on the crew, Doe comes for each shift Ready To Work and is positive throughout, no matter how the production day is going to go!" -Kezyia Ross, Saint Paul Production Supervisor.
Initially not excited about being named a Rising Star, Doe understands that the recognition means she stands out on the crew, even if it's not the most comfortable spot for her to be. As the only crew member from Humboldt High, Doe is grateful for the chance to get outside her comfort zone at work. Her current career interest is in becoming a traveling nurse. When asked what particularly is attractive about this path, Doe says, "Combining my ability to care for people with traveling and seeing new places in the world sounds like an amazing way to spend my working life!"
Doe thinks Cookie Cart has been good for her because it's a fun place to work that encourages everyone to be themselves while learning skills they can use in the future. Not a person to jump in and speak up or lead, Cookie Cart has helped Doe learn how valuable her voice is and it's helped her step out to learn new skills and volunteer for tasks in the bakery.
In terms of how Cookie Cart crew members can separate themselves and become future Rising Stars, Doe says, "overcommunicate with your supervisors and make sure you know when your shifts are. Being communicative is the best skill you can have with your job. Keep your attitude in the right place and try to learn fast so you can be a good worker."
Congratulations, Doe, on being a Rising Star in April!
You make Cookie Cart an incredible place and we are proud to have you!